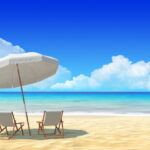 I am off work today.
And tomorrow.
Not doing anything in particular or going anywhere special (obviously), but just using up some of my annual leave.
With holidays cancelled last year, I didn't dip into my annual leave allocation much, save for a few days here and there.
And the company isn't allowing us to carry over any more than the usual five days, so it's a case of use it or lose it.
And I ain't losing it… done that before.
So, I have a couple of days this week; a week later in the month and then a few days spread throughout March – our year runs April to March.
Of course, I am not alone in this situation: lots of others are in the same boat at work and we have had to carefully arrange our leave around each other, such that we don't all end up taking the same week off, leaving no cover for our department.
Many are moaning about the company not allowing their several weeks of remaining leave to be carried over, rather than just the one.
And others are saying that the company should buy the leave back from them, as they haven't been able to use it, being stuck at home, as we all are.
This is ridiculous, of course, and neither scenario is going to happen.
Yes. it's not their fault that they haven't been able to get away this year, but then, neither is it the company's.
Me: I'm looking forward to my couple of days off.