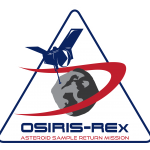 Some of you may remember the post I made six years ago, about the proposed mission to the asteroid Bennu, and how I arranged for my kids names to be engraved onto a chip that travelled with the spacecraft.
Well, for those of you who may have missed it, Osiris-Rex made contact with Bennu yesterday, making an extraordinary smash 'n' grab of the asteroid's surface.
It has now started it's long journey home… not arriving until 2023.
It blows my mind to think that the names of my children (and many others, but I'm not really interested in them, to be honest) now exist – however small – two hundred million miles away (that's further away from us than the Sun) and will quite possibly outlast us all.