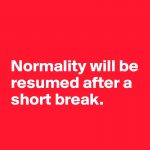 Or for whatever counts as normal, round here.
This morning, me and seven others, jumped onto our motorcycles and took a very enjoyable ride out through Hitchin, Letchworth and Baldock, and then cross-country through Buntingford and then a blast up the A10 to Royston, where we stopped at our regular biker's café for a slap-up cooked breakfast.
Of course, the café was closed, so we had to settle for whatever we had taken with us – in my case, a bottle of water and a bar of peanut brittle. Not as good as two sausages, egg, beans, mushroom and toast all washed down with two cups of splosh, but it had to do.
We all sat at different benches outside the café and shouted to each other, which felt rather stupid.
But the actual ride was brilliant fun, and it felt great to get back on two wheels.
And on Friday night, we had our first McDonalds for two months. The kids were ecstatic!  As I tucked into my Big Mac, I realised it was something I hadn't missed at all.
So, a couple of small steps back toward normality.
But it does annoy me, that the government have said we can now meet one person outside of our family… but they haven't yet told us who it is.